Schedule E for Form 990/990-EZ - Schools
- Updated August 14, 2023 - 2.00 PM - Admin, Tax990
Schools that file Form 990 or Form 990-EZ may be required to attach Schedule E to report additional information and meet their nonprofit tax filing requirements completely.
In this article, you can find more details about the purpose of and the filing requirements of Schedule E.
Table of Contents
Who Must File Form 990 Schedule E?
Generally, the organizations that are organized and operated as Private Schools described in section 170(b)(1)(A)(ii) are required to attach Schedule E with their Form 990 or 990-EZ.
Note:
These organizations must answer "Yes" on Part IV, line 13 of Form 990 (or) Part VI, line 48.
---
How to Complete Schedule E for Form 990/990-EZ?
Form 990 Schedule E includes two parts that need to be completed by schools.
Part I
This part is comprised of a series of "Yes" or "No" questions regarding how your organization stays in accordance with the guidelines set by the IRS for racially nondiscriminatory policies.

You are required to report the following information
Whether your school has included a statement summarizing the non-discriminatory policy in charter, bylaws, or any other governing instruments.
Whether your school has included a statement summarizing the non-discriminatory policy brochures, catalogues, and other written communications related to student admissions, programs, and scholarships
Whether your school has made the non-discriminatory policy publicly accessible to all parts of the general community it serves through internet homepage or newspaper or broadcast. (If not, provide an explanation for why it hasn't)
Whether your school maintains
Records describing the racial composition of the student body, faculty, and administrative staff
Records indicating that scholarships and other financial assistance are provided on a racially nondiscriminatory basis
Copies of all brochures, catalogues and other documents related to student admissions, programs, and scholarships
Copies of all the materials that your school uses to request contributions
Whether your school is involved in racial discrimination with regards to
Students' rights or privileges
Admissions policies
Employment of faculty or administrative staff
Scholarships or other financial assistance
Educational policies
Use of facilities
Athletic programs
Other extracurricular activities
Whether your school receives any financial support from a government entity
Confirmation that your school stays compliant with all IRS requirements regarding racial non-discrimination
Part II - Supplemental Information
You can utilize this part to provide explanations required for some of the questions in the previous part. You can also use this space to provide additional information about any other questions if required.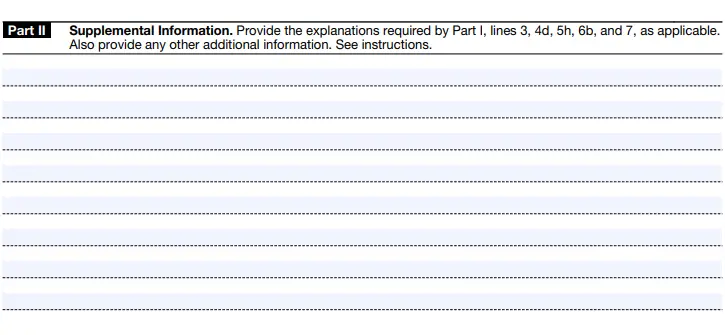 ---
Tax 990 Includes Schedules E with your 990 Form
For Free!
Tax 990 automatically includes your schedule E and other 990 Schedules for free based on the data you enter on your form to ensure that you meet your additional filing requirements.
Tax990 offers various features that make your filing experience hassle-free:
Multiple form preparation options: Form-Based and Interview-Style filing.
Add users to prepare, review and approve your forms
Built-in error check system to audit your form for any errors before transmission
US-based support team to resolve your questions via live chat, phone, and email.